Sukiyaki
Serves 4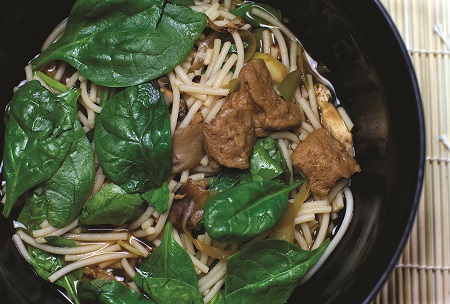 Sukiyaki is a Japanese soup or stew usually made with meat, vegetables, and a broth made of soy sauce, mirin (a Japanese rice wine used in cooking), and sugar. I make it with brown rice noodles (though udon or soba are often used). It is one of my favorite noodle dishes and comes together quickly once all the ingredients are assembled. Most of the ingredients for this dish can be found in traditional grocery stores, though I sometimes have to go to my co-op or local natural foods store to find seitan.
8 ounces brown rice spaghetti
1 leek, white part only, washed and thinly sliced on the diagonal
2 cups shiitake mushrooms, stems removed
3 cups mushroom or vegetable stock or Basic
Soup Stock (page 146)
1 8-ounce package traditional-style seitan, thinly sliced
2 tablespoons brown rice syrup or agave nectar
1/4 cup sake
2 tablespoons mirin
1/4 cup plus 2 tablespoons low-sodium soy sauce or tamari
1 bunch fresh spinach, coarsely chopped
Cook the pasta according to package instructions. Drain and set aside. Sauté the leek and mushrooms in a large skillet over medium-high heat for 5 minutes. Add water 1 to 2 tablespoons at a time to keep the vegetables from sticking. Add the stock, seitan, syrup or agave nectar, sake, mirin, and soy sauce to the vegetables and mix well. Bring the mixture to a boil and add the spinach and noodles.