Falafel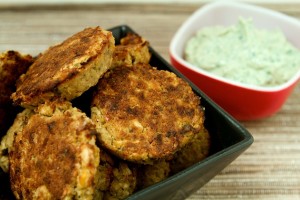 I love falafel. I eat them as an appetizer, in a pita with Green Sauce  or even
on pizza. But I don't want all the added fat that would normally be in a deep-fried
dish. So, I bake it instead and the results taste as good as the fried original.
Ingredients
2 15-ounce cans garbanzo beans (chickpeas),
drained and rinsed
1 medium yellow onion, chopped
6 cloves garlic, chopped
4 tablespoons fresh parsley, chopped
1 tablespoon arrowroot powder
4 teaspoons ground coriander
2 teaspoons ground cumin
sea salt and black pepper to taste
Directions
1. Preheat the oven to 375°F.
2. Add everything to a food processor and process, leaving a little texture to the beans.
3. Using a small ice cream scoop or tablespoon, shape the mixture into balls. Place on a
nonstick baking sheet and bake for 10 minutes.
4. Turn the falafel over and bake for another 8–10 minutes.