Featured Recipes
Sweet Potato–Black Bean Enchiladas
Serves 4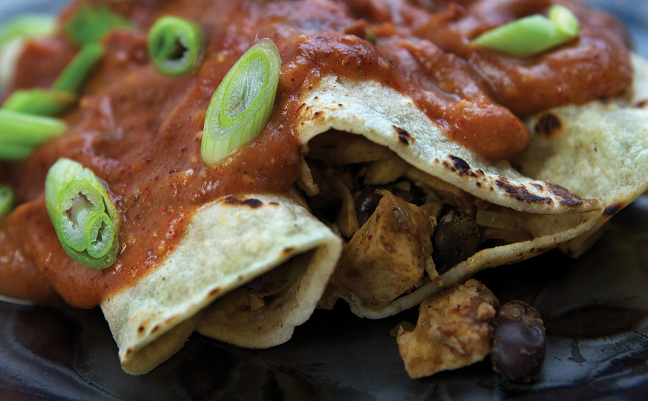 These are my favorite enchiladas. The very versatile sweet potato goes south of the border with some unusual spices like cinnamon and allspice.
1 medium yellow onion, diced small
1 medium sweet potato (about 1/2 pound), peeled and diced small
4 cloves garlic, minced
1 jalapeño pepper, minced
1 teaspoon ancho chili powder
1/2 teaspoon ground cinnamon
1/4 teaspoon allspice
1/2 teaspoon ground cumin
Zest and juice of 1 lime
2 cups cooked black beans
Sea salt and black pepper to taste
12 6-inch corn tortillas
3 cups Chili Gravy (page 101)
1/2 cup chopped green onions (garnish)
Preheat the oven to 350 degrees F. Sauté the onion in a large skillet for 5 minutes, adding water 1 to 2 tablespoons at a time to keep the onion from sticking. Add the sweet potato and 1/4 cup water. Cover and cook over medium-low heat until the potatoes are tender, about 7 or 8 minutes. Remove the cover and let the water evaporate from the pan. Add the garlic, jalapeno pepper, and spices, and cook for 2 minutes. Add the lime zest and juice and black beans, season with salt and pepper, and cook for 5 minutes longer.
Heat another large skillet over medium heat. Add 4 tortillas to the pan and heat them a few minutes until they soften. Turn them over and heat 2 minutes more. Remove them from the pan and set them aside. Repeat with the remaining tortillas.
To make the enchiladas, spoon 3/4 cup of the chili gravy on the bottom of a 9 × 13 inch baking dish. Spoon a heaping 1/4 cup of the black bean mixture down the center of each tortilla. Roll the tortillas up and place them in the baking dish, seam side down. Cover with the remaining gravy and bake for 20 minutes. Serve garnished with the chopped green onions.
Try these other fabulous tasting recipes!